Herm Sprenger Prong Collar
Herm Sprenger Prong Collars with side release buckle. Makes it easy to put on or take off. Wonderful training collar.
Collars are made to order. Call for pricing.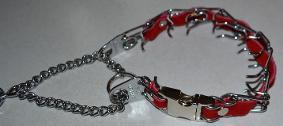 Tasman's Genuine Bison Leather Collars with Elk Lining
Beautiful colors available. Can order plain or with Swarovski Crystals.
Call to order and for pricing.